Highly Skilled Migrant: Melissa Vargas
Highly Skilled Migrant: Melissa Vargas

26 September 2023 – Osman Can Akdeniz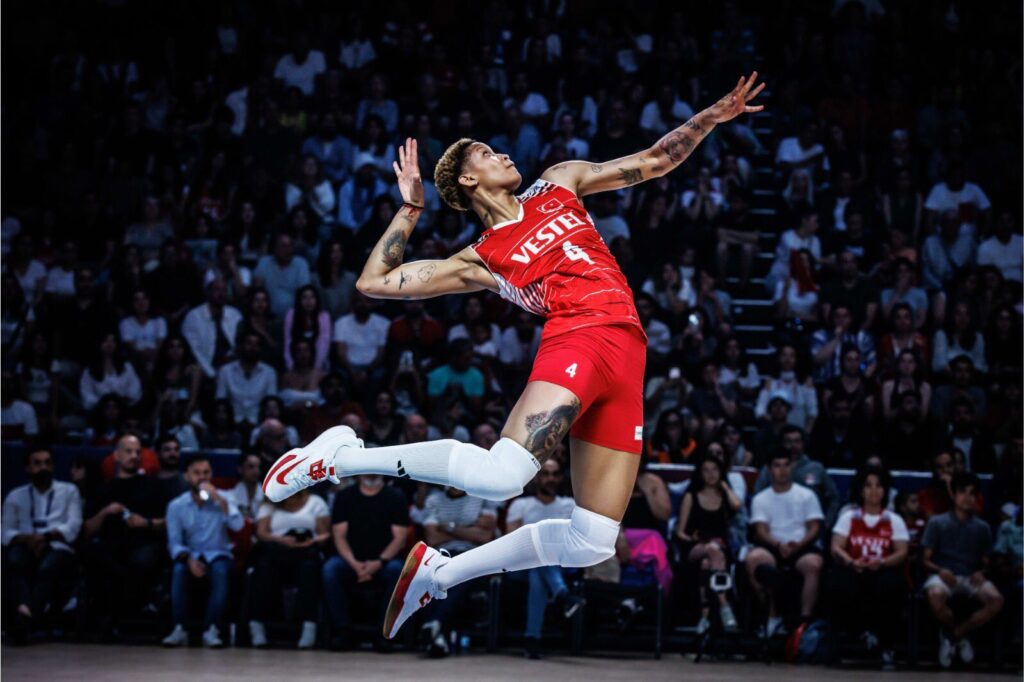 Last Sunday, the Turkish National Women's Volleyball Team made us proud. "Sultans of the Net" achieved great success in the European Volleyball Championship and brought the gold medal to our country. Of course, all our national athletes contributed to this success and we congratulate them all wholeheartedly.
However, there is one name among them that has both captured the hearts of everyone in Turkey and sparked a lot of controversy: Melissa Vargas. Vargas, originally born in Cuba, has been a member of the Turkish National Volleyball Team since the spring of 2023.
Vargas, who returned to her country due to an injury she suffered while continuing her sports life in the Czech Republic, was punished by the Cuban Volleyball Federation for criticizing the Cuban health system and was banned from the Cuban National Team for four years.
After this incident, Vargas transferred to Switzerland, where she applied for asylum seeker status. Then, in 2018, she was transferred to Fenerbahçe, and the Turkish adventure we all know started. In 2021, when she became a Turkish citizen, she was given his identity card by President Erdoğan himself.
The main focus of the debate on Vargas was shaped around the questions "Why are those who accept and embrace Vargas hostile to Syrians?" or "Vargas is the only useful name we give citizenship to, why do we give citizenship to others?". The example of Melissa Vargas shows that it is very important to define the concepts related to migration and to learn their differences because there is confusion in society on this issue. At this point, it is necessary to answer questions such as who is a migrant, who is a refugee, what is the difference between a refugee and an asylum seeker, and are migrants and refugees the same thing?
First of all, Vargas has a special type of citizenship that is granted to those who excel in other sports or the arts and sciences. Colin Kazım Richards (Kazım Kazım) and Marco Aurelio (Mehmet Aurelio), who previously played for our National Football Team, are examples of this. These people called "Highly Skilled Migrants", are exempted from many of the requirements normally required to obtain citizenship thanks to their outstanding achievements. This makes it easier for them to contribute to the country of citizenship.
Immigrant? Refugee? Asylum seeker? Illegal Migrants?
Now let's come to the concepts that we all hear all the time and are now a part of our lives in Turkey. I will not make a dictionary definition here and I will talk about the differences between these concepts in general. First of all, anyone who migrates from one country to another country or from one city to another city within their own country is called an immigrant.
That is, if someone living in Istanbul came to Istanbul from a city in Anatolia, that person is also an immigrant. My father came to Istanbul from Malatya, so he is also a migrant. Or someone who goes abroad to work or study is also defined as a migrant. I am currently in Germany for my master's degree and I am also a migrant, just like foreign students in our country.
There are also people who are defined as illegal, unlawful, or irregular migrants, which are people who enter another country illegally and stay there illegally. Many countries around the world are currently trying to combat this illegal immigration.
A refugee is someone who has been forced to leave their country because of poor conditions, war, racial and religious discrimination, political opinion, climate conditions, and many other reasons. For example, people who fled the war in Ukraine are refugees in Turkey and European countries.
Syrians fleeing the war are not refugees but asylum seekers. The concept of asylum seekers refers to people who leave their country as refugees but whose refugee status is not recognized. Under the 1951 Geneva Convention on the Law of Refugees, signatory states are obliged to grant protection and refugee status to those who seek asylum.
However, Turkey has made a geographical reservation to this convention, removing the obligation to grant refugee status to asylum seekers entering through its eastern and southeastern borders. Only asylum seekers from the Council of Europe member states are granted refugee status. For this reason, Syrians live in our country with temporary refugee status, with the possibility of returning if conditions in Syria improve.
Afghans who fled the Taliban and came to our country do not even have asylum seeker status. This is because, to be granted asylum seeker status, they have to apply for it in Iran, the first country they arrived in after leaving Afghanistan. However, as we know, they come to Turkey because Turkey is in a better situation economically and in terms of living standards and because it is located in a geography closer to Europe.
As a result, Ukrainians in Turkey are refugees, Syrians are temporary asylum seekers, Afghans, and other illegal arrivals are irregular migrants or fugitives, and Melissa Vargas and other talented athletes, artists, and scientists who have been granted citizenship are highly qualified migrants.
It is an indisputable fact that the Turkish government's open-door policy for many years has caused many problems in our country. However, at this point, I have to say that it is not right to have a racist attitude towards foreigners in our country. There is no logic in being individually angry at people who come here as students, who come here to work, or who seek asylum because they have fled war.
Yes, no country can handle a foreign migration of nearly 10 percent of its population in a short period of ten years, neither economically nor in terms of security and infrastructure conditions. However, it is not the people who come to our country that should be criticized, but the government that has implemented an open-door policy without a plan and program, and the European Union member states that have left Turkey alone in this regard.